T-Ball Division
T-Ball games are Monday or Tuesday night (your choice).  Diamonds are set up by 6:00 PM so teams can warm up and have games be underway by 6:30 PM.
For almost all of our players T-Ball (Preschool or JK) will be their first opportunity to be part of a team. Each team of 7 or 8 players should have 3 coaches and other volunteers.
The main focus points of this division:
Good sportsmanship and having fun.
Safe play.
Listening to instructions from the coach who may not be their parent.
Playing as part of a team.
Skill development -batting, running and throwing the ball. Catching comes later.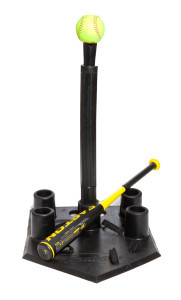 ALL games are on the grass opposite the Walter Baker Centre on Malvern Drive.
Games are on grass to reduce the chance of injury if a player falls.
2018 Schedules
Please use the schedule for the appropriate night. The league's ball diamond locations and rainout policy is described here.