Media
From time to time, the Barrhaven's Children Softball league garners attention outside of our neighbourhood.
2014 Softball Canada PSA
See if you can spot the Barrhaven 'B' hats on our players in the videos below…
English – YouTube
Français – YouTube
City Builder Award
Ottawa Mayor Jim Watson and Ward Councillor Jan Harder present Barrhaven Children's Softball League President David Vesey with a City Builder Award in 2014.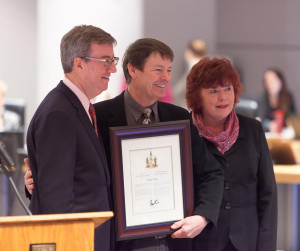 David was recognized for his  years of effort in organizing and promoting children and family focused activities, including Barrhaven Children's Softball League,  Nepean Minor Hockey Association Timbits programs, and the children's zone at Barrhaven's Canada Day celebrations.
The honour was awarded to David for his contribution in making our city a better place today and for the future.
We will probably embarrass David by posting this, but both David and the Barrhaven Children's Softball League should take pride in his leadership making us the largest children's softball league in Ontario, and one that continues to ensure that "THE PLAYER ALWAYS COMES FIRST". Congratulations David!