Programs and Divisions
Program Overview
The season runs from the week of May 13 2019 to the 27th of July.  Games usually start at 6:30 PM and last up to 60 or 90 minutes depending on the age group and dusk. 
We offer 3 different programs allowing us to serve the needs of players from as young as three to those in high school. Games are scheduled on the same day once a week. This is important since the league believes that players should be encouraged to try other sports on the other nights. NO sport should "tie up a player" by scheduling multiple nights. Most coaches in the Traditional division try to arrange practices at times convenient for the families involved.- no more than one per week is allowed.
Note: Grade levels for divisions reflect the usual participants. It is important that players are challenged to improve without undo stress. Parent input is appreciated on the rationale for moving players up or down a division.
Tiger T-Ball – $50
(for 3 and 4 year olds)
This is played on diamonds painted on the grass outfields for safety reasons and is designed as an introduction to the game. No "outs" are called and no scores are kept. For almost every player it is their first opportunity to be on a team and their enthusiasm is obvious!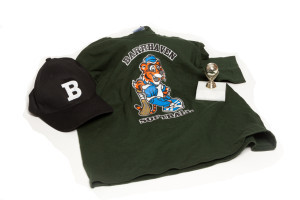 Every player receives a hat, T-shirt, trophy with their name engraved on it, participation certificate.
Transition Ball – $75
(usually for senior kindergarten and some physically well developed junior kindergarten)
This is played on the diamonds. This program is meant to move players from T-Ball to traditional softball in later years. Players begin the season using T's and then switch to 5 coach pitches. Players are randomly assigned to teams. During games "outs" occur but no score is kept. The emphasis is on learning both individual and team skills through recognizing good plays on both teams.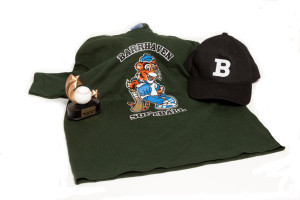 Every player receives a hat, T-shirt, trophy with their name engraved on it, participation certificate and participates in a year end Skills Olympics and family BBQ.
Traditional Softball – $75
(several divisions: Rookie, Novice, Junior, Intermediate & Senior, for grades 1 – 12)
This is played on diamonds and follows Softball Canada rules for traditional pitch softball. We offer three divisions based on school grade rather than age since most players tend to play with their classmates: Rookie (grade 1) Novice (grades 2-3), Junior (grades 4-6), Intermediate (grades 7-8) and Senior (grades 9 – 12). The dimensions of the diamonds increase with age and rules are modified between divisions to maximize the experience for the players. Every attempt is made to balance teams.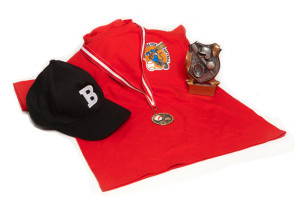 Every player receives a hat, T-shirt, trophy with their name engraved on it, and of course that family BBQ on Championship day third Saturday in July. On that day teams compete for gold and silver medals at Larkin field and all players receive their individualized engraved trophies.
Division Summary
Please refer to the Registration page for more information on how to register.

Note:
* T-Ball games are Monday or Tuesday night (your choice)
** The registration fee already includes a $12 fee for the individual and team pictures and will be transferred to our professional photographer