Coaching
Without coaches there would be no league. YOU are the foundation of the league. Parents often ask if coaches require any special knowledge or skills. The answer is both yes and no.
YES. All coaches are expected to know the rules of softball and to understand the skills that we are trying to develop in our players. These are published and are pretty easy to grasp. If you are unsure then there is lots of help for you – just ask! Our players cover a wide range of not only age but prior experience. Their skill development should be approached with that in mind. As the players increase in age through our divisions (Novice, Junior and Senior) their physical and mental abilities change and so can our expectations. What cannot and will not change is the firm commitment to making sure kids have fun and feel good about themselves. This is exactly the same situation we all face as parents trying to teach our children anything. Kids learn best through participation and practice within a framework that offers safety and encouragement. Every child learns in their own way and at their own pace.
NO. The real question is whether or not you can train someone to care about kids in sports. Good coaches can always get better with more experience and with an open mind to techniques used by other coaches. Being a coach is in many ways a calling. A coach loves to be with kids, watching them develop, learn and be successful. They enjoy the "thrill of a player or team's personal victories" and try hard to cushion "the agony of defeat" that sometimes happens. Success for good coaches is not championships but the development and enjoyment of their players. The attitudes that you will help develop in your players about belonging to a team and maintaining a healthy active life style will influence them for the rest of their lives.
In this league we are all volunteers.
All anyone can ask of you is:
that you try your best
that you put the interest of the player first
that you complete the small list of administrative jobs required of you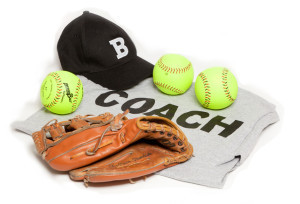 Running a team is like running a franchise fast food restaurant. You have no choice of the menu but you can control how the meal is cooked and served and how your customers are treated. Try to make your franchise special by adopting a team name or cheer or by having the best snacks. Don't be afraid to delegate jobs to other parents. Above all have fun and enjoy these special times with your children and their friends.
Thanks again for all your enthusiasm! Don't ever hesitate to contact the league if you have questions or need some help.
Coaching Role:
(From Softball Canada – It says it all)
"Your role as a coach"
Coaching is for anyone who enjoys sports and cares about kids. When
working with players you should remember that you are a teacher, a
leader and a counselor.
As a teacher you:
Provide simple teaching points to help your players learn.
Encourage skill development through games and activities.
Provide lots of activity to contribute to an active lifestyle.
As a leader you:
Set goals that are challenging but realistic.
Offer encouragement and support to help your players be the best they can be.
Instill the importance of being a good sport and playing fair.
As a counselor you:
Listen to your player's concerns and deal with them as best you can by being supportive.
Make sport a positive fun place to be.
When you coach youngsters the results are real and immediate. You share
in small victories as they develop skills. You feel it in their energy
and enthusiasm. You see it in their smiles. But the results of coaching
are also subtle and long term. Through softball you will help your
players develop as individuals. The athletic skills they learn from you
may only be used for a few years but the attitudes they develop towards
themselves and others will last a lifetime.
These wonderful benefits do not come easily. There is a clear commitment
involved in being a coach – for planning, practices and games. There is
a real responsibility as you enter the lives of young people. But the
effort is worth it. Ask long time coaches about their involvement in
softball and they will tell you they have gained more than they ever
gave because of it.
Coaching Tips:
Coaching is like any other skill – it can be practiced and improves over time. Every coach in the world started as a rookie and was nervous going into that first game. Good coaches are made not born.
As a league we expect you to try our best – always remembering that "the PLAYER always comes first". As a league we encourage you to try your best. Plan ahead to succeed and get better. Look for resources (drills, plays, visuals) that will make the experience for the kids better. This is your team and you can add your own flavor to what happens. When in doubt ask the league – here are lots of people with lots of experience just waiting to offer you assistance. If you have a new idea share it here so others can see it and improve.

A few simple tried-and-true ways to make the experience better:
Coaching Idea 1
Choose a team name and cheer. Work on team bonding ASAP. Some coaches put names on hats, have team outings etc.
Coaching Idea 2
Put the names of your players on clothes pegs and attach them in order to the side of a clip board to maintain your batting order in a clear highly visible way.
Coaching Idea 3
Drill a hole in an old softball and attach a rope to it. Throw the rope over a back stop to create a swinging target for players to practice batting.
Coaching Idea 4
Most players do not swing hard enough when they bat. Instead, they concentrate on making contact. This seems like a good idea but is actually the wrong way to learn to hit. Tell players that you want them to swing hard enough to spin themselves around…If you look at the ground after the swing their toe will have made a happy face smile in the gravel…magic!
Coaching Idea 5
Most players slow down running to first. Remind them it is a race and the finish line is the ORANGE first base. No one stops at the finish line – they run as fast as they can through it. This also applies to home plate where players are encouraged to just run behind the plate instead of touching it.
Coaching Idea 6
Book a practice diamond.- the time spent early in the season will pay huge dividends at the end of the season.
Please see the FUNdamental Skills page for some basic skills review.
Coaching Resources:
Coaches, there are excellent resources from Softball Ontario as well as other sources on the internet. When you find a great source, share it with the league and other coaches!
Please see the Resources page for useful materials (eg: blank score sheets) and other resources.